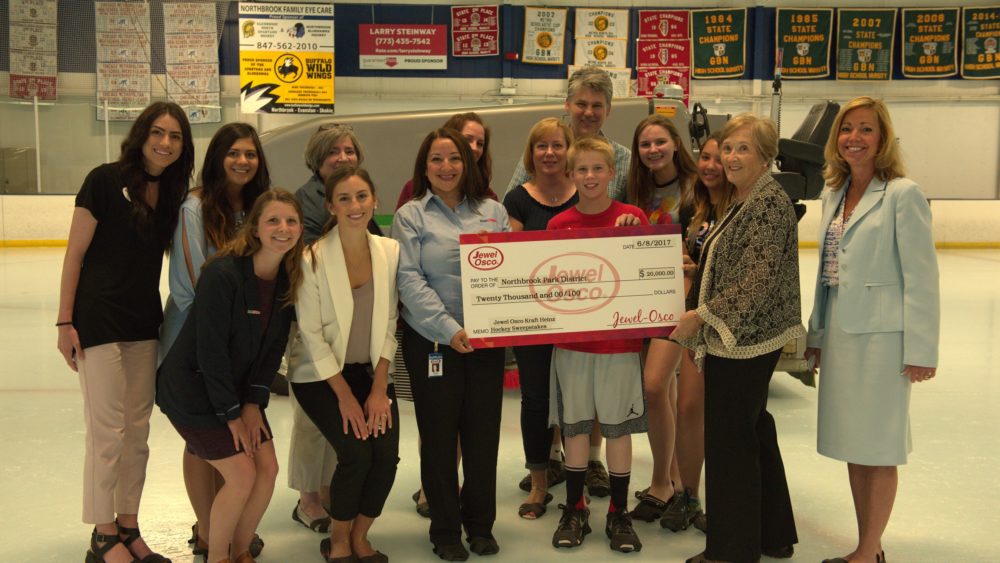 June 9, 2017 at 8:24am
On Thursday, June 8, our President of the Board of Park Commissioners, Penny Randel, received a life-size $20,000 check on behalf of the Northbrook Park District from Jewel Osco and Kraft Heinz Food. Northbrook resident Jenny McGee, an avid Jewel shopper, entered the Jewel Hockey Sweepstakes and selected the Northbrook Sports Center as her favorite rink. Although Jenny's kids are not currently enrolled in any hockey programs at the District, her daughter frequents the Sports Center for open skating and all family members are avid users of the Northbrook Sports Center Pool.
During the check presentation ceremony, Commissioner Randel stated that, "The Northbrook Sports Center is home to two rinks and is a destination for many hockey players and skaters, so this money will be put to great use." The District plans to use the money at the Sports Center to improve off-ice training opportunities and purchase equipment for skaters of all-ages.
Thanks Jenny McGee, Jewel and Kraft Heinz for this generous gift!